E. JON WEIFFENBACH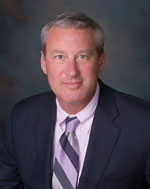 E. Jon Weiffenbach started his own firm in 1986 as a sole practitioner in the areas of Criminal Defense and Family Law after working with the Public Defender's Office for two years. Since that time, Mr. Weiffenbach has handled thousands of cases, including numerous jury trials on capital cases, such as first-degree murder and capital sexual batteries. Complex dissolutions and post-dissolution matters continue to be a large part of his practice as well.
Mr. Weiffenbach earned a B.A. degree in American and English literature from the University of South Florida in 1981, after a two-year college basketball career at Biscayne College, now the University of St. Thomas Aquinas. He obtained his J.D. from Stetson College of Law in 1984. Mr. Weiffenbach worked in the Public Defender's Office as an intern while still enrolled at Stetson handling a number of jury trials even prior to graduation.
Mr. Weiffenbach was admitted to the Florida Bar in 1984 and joined the American Bar Association. He is also qualified to practice in Federal Court, having been admitted to the United States Middle District that same year. He served two terms on the Grievance committee for the Florida Bar in the 12th Judicial Circuit and is a past member of the Fee Arbitration Board.
In 1995, Mr. Weiffenbach received an award from the Supreme Court of Florida and then-Governor Lawton Chiles, for his dedication to the Florida Guardian Ad Litem Program and outstanding Pro Bono Services to the Court. Mr. Weiffenbach and Ms. Dees (formerly Kaklis), formed the firm Weiffenbach and Kaklis and are business partners with local public schools providing financial support for various school projects. The firm was nominated for Business Partner of the Year. Mr. Weiffenbach also served as a judge in local high school mock trial competitions.
Mr. Weiffenbach was born in New Orleans, Louisiana and raised in Key West, Florida. He moved to the Manatee County area in 1981. Mr. Weiffenbach continues to be active in the community, having served as Chairman of the Crosthwait Fishing Tournament in 1996 and Fleet Captain of Sport Fishing on the board of the Bradenton Yacht Club numerous times. He also organized and ran a number of fishing tournaments for the blind through the Lion's Club.
In August of 1981, Mr. Weiffenbach married his wife of 29 years, Sylvia Reed, and has three children. Sylvia is a former newspaper reporter and successful playwright. Her award-winning plays have been produced throughout the United States and most notably in New York City at the Public Theater and in London, England at Theatre503. Erica, his oldest child, graduated cum laude and was a member of the Florida Cicerones at the University of Florida. She currently teaches journalism at Manatee High School and is the advisor for the school newspaper and yearbook. Austin and Natalie attend the University of Florida, excelling in their respective majors. Mr. Weiffenbach hopes they graduate soon.